XENO Warns Public of Fraudulent Activities, Urges Vigilance and Safe Transactions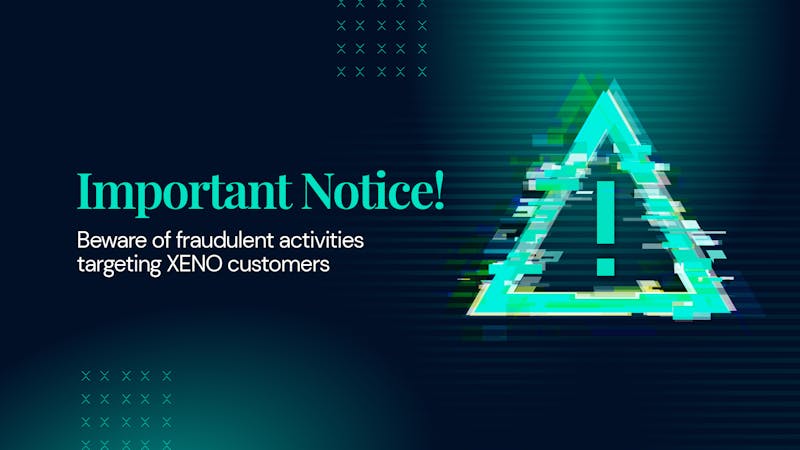 XENO Warns Public of Fraudulent Activities, Urges Vigilance and Safe Transactions 
[Kampala, 13th June 2023] - XENO, the leading goal-based investment service in Uganda, is warning the public about fraudulent activities targeting individuals through unofficial channels. It is crucial to be aware of these scams to safeguard against falling victim to financial fraud. 
Please note that we have identified a WhatsApp group operating under the telephone number +256761915872 registered under Rogers Murungi, falsely claiming to be affiliated with XENO. We want to clarify that XENO has no association with this group, and any transactions or communications through this group are not endorsed by XENO. We strongly advise the public to exercise caution and refrain from engaging in any suspicious or unauthorized communication. 
XENO is dedicated to helping individuals, families, groups, and institutions plan, save, and invest in their financial goals. We want to emphasize that the only authorized methods to join XENO are through our secure platforms: join.myxeno.com, *165*5*7# via MTN, or our official 'XENO Investment' app available on the Apple Store and Play Store. Any other channels or platforms claiming to represent XENO are unauthorized and fraudulent. 
XENO will never ask you to send deposits or funds to a phone number. Legitimate transactions or investments with XENO should only be conducted through our authorized platforms mentioned earlier. Additionally, approved deductions through MTN Mobile Money (MoMo) are the accepted methods for transactions with XENO, as well as bank transfers to our authorized accounts: 
Bank: Stanbic Bank  
Branch: Corporate  
Account Name: XENO Uganda client Inflows  
Account Number: 9030013821932 
Bank: Centenary Bank 
Branch: Mapeera 
Account Name: XENO Uganda Client Inflows 
Account Number: 3100071791-0 
The security and trust of our clients are of utmost importance to us, and we are actively addressing this fraudulent activity with the relevant authorities and stakeholders.  
XENO's official communication channels are uganda@myxeno.com, and our official Call/WhatsApp line is +256392177488. We urge individuals to verify the authenticity of any communication or request and to safeguard their personal and financial information. 
XENO Investment Management Limited is a licensed entity that can be found both on the websites of CMA and URBRA under licensed fund managers. 
We encourage everyone to stay vigilant and report any suspicious activity or messages to us promptly. Your cooperation in helping us combat fraud is highly appreciated. 
XENO remains committed to providing a secure and reliable platform for individuals, families, groups, and institutions to achieve their financial goals. To learn more about XENO and our goal-based investment services, please visit our website at www.myxeno.com and download our official XENO Investment app from the Apple Store or Play Store. 
Contact: 
David Ogutu  
Marketing Lead, XENO  
David.Ogutu@myxeno.com  
+256771909090 
XENO and our partners execute your investments using a diversified portfolio of unit trust funds ensuring the highest standards of ethical and professional conduct.